Shion Hatake (はたけシオン , Hatake Shion) is a chūnin-level kunoichi from Konohagakure and a member of Team Yusei.
Background
Shion is the only child of Yoshiro Matsuya and Kaoru Nobuko.
At age 7, she was rescued by a group of Konoha Anbu shinobi from the "white shadow" organization, who took her to live at Konoha. Many years later, she discovers that the one who saved her was Kakashi and from there Shion admires him and uses his last name as a sample of gratitude.
Personality
Appearance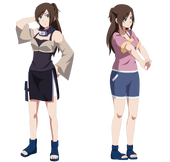 Shion has long brown hair, green eyes and fair skin.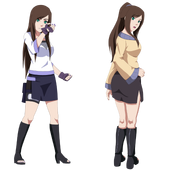 Abilities
Nature Transformation
Shion's natural affinity is Lightning Release. Kakashi taught her the Chidori and other lightning jutsu.
Part I
Sasuke Recovery Mission
Part II
Movies
Naruto 6: Road to Ninja
Naruto 7: The Last
Trivia
Her name comes from a wild flower (specifically, the aster).
According to the databook(s):
References
Shion Hatake is an original and fictional character created for the anime manga of Naruto. She is an original character created by Antodonatella on :
Community content is available under
CC-BY-SA
unless otherwise noted.