Miratugan

Miratugan

Rōmaji

ミラトゥーガン

Literal English

Miror eye`s

Viz Manga

Bright eye

Debut

Appears In

Fanfiction

Data

Known Wielders

Hakasy Fukoru

Madzukzen Fukoru

Jutsu
The Miratugan (ミラトゥーガン,Miratugan) is the dōjutsu kekkei genkai of the Fukoru clan. Miratugan is manifested as very distinctive eyes,the user they are characterized by one great red iris with a black pupil and a geometric pattern. Unlike the Sharingan eye, Miratugan needs no revival, since it can be used to awaken, for example Hakasy woke him up at birth, Madzukzen in the murder Higashi, and Miratuno under stress from the loss of his grandfather. In addition, all members of the clan possess the kekkei Genkai this, but can't awaken because each person of the clan of the conditions for its revival and it is impossible to know.
Abilities
Increase the stock of chakra at her significant losses. High speed of movement and attack. at high level, kekkei Genkai enables the concept of the thoughts and feelings of the opponent.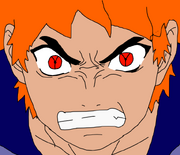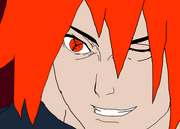 Trivia
It is impossible to transplant Miratugan person not having any connection with the clan Fukoru, and Uzumaki.
Learn how to awaken Miratugan can be in the spirit of Hakasy, but the person must have a clean soul and body.
Community content is available under
CC-BY-SA
unless otherwise noted.