Hotaru Akiyama (秋山蛍, Akiyama Hotaru) was a kunoichi that originated from Iwagakure. She is the mother of Kasumi Akiyama, and aunt of Ōkami Akiyama. She's an original character created by ~Love-Inspired of DeviantART . (Now on the account SweetContext)
Background
At some point in her life, Hotaru met Isamu. They became a couple and, eventually, married. Kasumi was born between them, and was raised until she and her husband met their untimely deaths.
Personality
Hotaru is a respected and reserved woman, having both composure and agitation. She disliked being spoiled and sheltered, and would often act out against it. Among clansmen, she seemed the definition of a young lady. Hotaru dislikes conflict, but becomes aggressive if her family is threatened. In her late teens her rough exterior mellows out, and she has matured enough to assist her brother with the clan's affairs.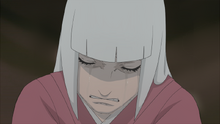 In regards to her close family, Hotaru is incredibly loving and affectionate, and goes out of her way to spoil her daughter and nephew. Her friends have always been important to her and she would frequently visit them on her time off. Hotaru values any bonds she makes with those around her and has since made a note to think of those she cherishes often.
Appearance
Hotaru has large, thick lashed eyes, green irises with soft white hair and straight cut bangs. Her hair is pulled into a tight braid and her remaining hair frames her face. When off duty, she lets it fall loose.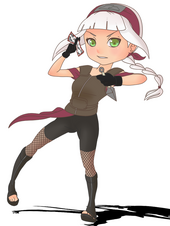 Compared to the other jōnin, her uniform is consistent with theirs except that she wears a drop sleeve dress that ends in a half skirt. Her forehead protector is tied as a headband behind her bangs.
Trivia
Hotaru (蛍) means firefly, most likely in reference to the bright green of her eyes.
According to the databook(s):

She enjoys gardening, even though the soil in Iwagakure isn't very fertile.
Her favorite phrase is "family" (家族, kazoku).
Her favorite foods are gomoku-mame and ikinari dango while her least favorite food is gyusuji curry.
Quotes
After learning of her father's death: "I'm sorry father... I'm sorry I wasn't there."
To Senzo: "It's not like I want to be the next head of the clan. You're better suited to that type of thing."
Community content is available under
CC-BY-SA
unless otherwise noted.