Higakure

Name

Kanji

陽隠れの里

Rōmaji

Higakure no Sato

Literal English

Village Hidden by Sun

Village Data

Country

Leader

Symbol

Statistics

Population

1/5

Military

2/5

Economy

2/5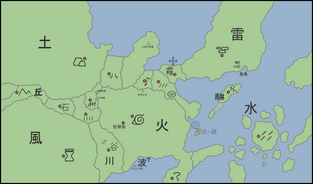 Higakure (陽隠れの里, Higakure no Sato; English TV "Village Hidden in the Sun", "Hidden Sun Village"; Literally meaning "Village Hidden by Sun") is the hidden village of the Land of Light (located between the Land of Hills and the Land of Earth). Because it is not one of the Five Great Shinobi Countries it is not governed by a Kage, instead it is governed by a Village Head, the current being Heibō Oniwaka. The Head is always a member of the Oniwaka Clan, and the successor is selected by the previous Head upon their retirement.
Overview
WIP (MAP IS JUST A PLACE HOLDER AND WILL BE CHANGED TO HAVE BOTH THE COUNTRY AND VILLAGE AT SOME POINT)
History
Founding
Like other hidden villages, Higakure was founded shortly after the Warring States Period. The founders were twin brothers named Benbō and Keibō Oniwaka, who originally settled in the Land of Light with their families to protect the surrounding farming villages from bandits. Eventually people began arriving in the village hoping for instruction on the Shinobi arts, and thus Higakure emerged as a Shinobi village.
The Head of the Village is always a member of the Oniwaka Clan, making the village a monarchical ruling.
Fourth Shinobi World War
WIP
Locations
Fighting Styles
Clans
Oniwaka Clan

The Oniwaka Clan (鬼若一族, Oniwaka Ichizoku) are the clan that is responsible for the creation of Higakure, and the Village Head is always a member of this clan.
Ginwaka Clan
The Ginwaka Clan (銀若一族, Ginwaka Ichizoku) is the second most powerful clan in Higakure, and is famous for three kekkei genkai commonly occurring among its members.
Festivals and Events
Festival of Light (光祭, Hikari Matsuri)
Trivia
Community content is available under
CC-BY-SA
unless otherwise noted.