Emon Harugasumi

ハルガスミ えもん Harugasumi Emon
Akazome (あかぞめ, Akazome)

Sasuke from the past (過去からのサスケ Kako kara no Sasuke)

Debut

Manga

Chapter #

Anime

Episode #

Appears in

Anime and Manga

Personal

Birthdate

May 5

Gender

Male

Age

35 (at time of death)

Height

176 cm

Weight

70,8 kg

Blood type

B

Affiliation

Konohagakure
Emon Harugasumi (ハルガスミ えもん, Harugasumi Emon) was a poet from the Warring States Period. He was the brother of Arata Harugasumi, who was the leader of the clan at that time he died.
Background
Emon was the second and last child and son of two Harugasumi clan member. His father was the clan leader at that time when he was born. According to his brother, he didn't wanted to learn jutsus because he was very sensitive.
He first started writing poems at the age of 12. He wrote about happines at first.
At the age of 24 he met a woman who was as old as him. They started dating and they were engaged for six years later. They couldn't do it in less years because he traveled abroad.
At their first year of engagement he discovered that she is cheating on him. He became depressed and he started writing poems about death, unrequited love and other tragedies.
Three days bedore their wedding he commited suicide at the age of 35.
Personality
Emon was a talented, but a highly sensitive person. He was depressed.
He had a good relationship with his family especially with his brother.
According to his brother, Emon locked himself in his room when his father asked him why he doesn't want to be a shinobi. He aslo hated pranks and between the ages 4-12 he always told his mother what his brother, Arata was doing.
Appearance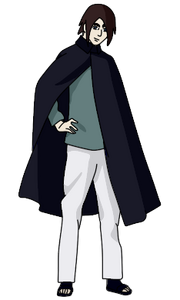 Emon had dark brown hair and dark blue eyes. He had white skin.
In flashbacks he wore a black cape, grey shirt, white pants and black sandals.
When Chocho, Nagisa and Kaita searched for the Harugasumi clan history they commented that he looked like the adult Sasuke. This gave him the nickname: Sasuke from the past (過去からのサスケ Kako kara no Sasuke)
Trivia
Harugasumi means spring fog.
He is named after a Japanese waka poet named Akazome Emon who was actually a female. His nickname also comes from her name.
His hobbies were writing poems.
He hated fights.
His favourite color was black.
He was highly sensitive.
He had depression.
Emon scored 3 points in the Mary Sue test. He is: The Anti-Sue. Your character is the very antithesis of a Mary-Sue. In this category your character can mean two things.1.) You need to add more positives to the character. OR. 2.) Your character already does have enough positives and you made her/him interesting and balanced in your own unique way.
Reference
Emon Harugasumi was made by ShiroZakuro(aka me) on Deviantart.
Community content is available under
CC-BY-SA
unless otherwise noted.