Bōnkurasshā

Name

Kanji

骨破砕剣

Rōmaji

Bōnkurasshā

Literal English

Bone Crusher

Viz Manga

Bone Crusher

English TV

Salient Greatsword

Debut

Manga

N/A

Anime

N/A

Appears In

Fanfiction

Data

Derived Jutsu

Wielder
The Bōnkurasshā (骨破砕剣; Literally meaning "Bone Crushing Sword") is a massive greatsword which is shaped into a thick sword that curves out in the end. This sword's ability has earned this sword the title Salient Greatsword (顕著なグレートソード, Kenchona gurētosōdo). This sword was originally the fifth Raikage's, but was later stolen after he died.
Appearance
The blade of this sword is thick and reaches several feet long. The blade curves slightly near the end, then curves back into a long edge for piercing. The latter notch allows a strap to be wrapped around the weapon, making it easier for the user to carry. Its extremely long handle is also detachable to further aid transportation and then reattached when required for combat. This sword has also been noted to be very heavy. Leaving Ayane completely unable to wield it, and Ryuun giving up on trying to use it in the future. However because of Iroshi's physique, he is able to use this sword in Part ll, and is later able to use it with one arm.
Abilities
This sword has shown many times to receive chakra easily to perform chakra flow techniques, as shown with Kurai and Iroshi. This sword also has the unique ability to absorb any chakra and dispersing it within the sword by spinning the chakra in the opposite direction. As a result, this technique can absorb almost any ninjutsu based technique, rendering it ineffective on the user. Though this sword can absorb chakra, it is unable to absorb chakra that has been manipulated into advanced shape transformations.
Trivia
This is the first drawing of Bōnkurasshā.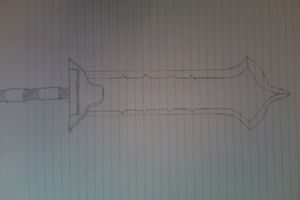 Community content is available under
CC-BY-SA
unless otherwise noted.