Airi Chinatsu (千夏愛莉) is a chūnin-level kunoichi of Konohagakure's Chinatsu Clan and a member of Team Masahiro known as Team 5.
Background
During the Nine-Tails' Attack on Konoha airi's parents hari and masashi went with their friends yuki and hotaru to fight with kurama. When kurama attacked Masashi Airi jumped to save him and unfortunately she died, before diying she asked her husband to protect their child. After that incident masashi was deppresed and was acting very carefully on missions,he kept repeating to himself "I cant lose anyone anymore". Thats why he didnt wanted Airi to become ninja becouse he knew how dangerous it was but everyone in their family was ninja and to not let that tradition down he finally agreed but still wasn't sure about it.
In academy she had many friends she always was cheerfull and funny,loved to tell lots of jokes.academy years passed without any incidents.
Personality
Airi is cheerful and sweet girl,she always had many friends becouse of her personality. She can be sometimes little bossy but most of the times she is relaxed and friendly.its not easy for her to ge angry.sometimes she can be little too honest thats why some people might think that she is disrespectfull, she doesnt likes when someone is lying to her or just isn't being honest that why she is being honest to people, she hates lies and sarcasms.most of the time she is caring, active and kind person.she likes being  with friends and family however doesnt enjoys being with people that she barely knows, at times like that she becomes shy and very clumsy but it is easy for her to find a new friend.
Appearence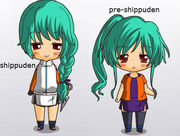 Airi has turqoise greenish hair, red eyes and fair skin.
In first part she wears orange jacket, purple dress, high, grey stockings and sandals. She wears hair as side ponytail.
In second part she wears orange arm-guards, white top, white apron skirt and black shorts and sandals. She wears hair as side pigtail.
Abillities
Airi posseses Crystal release.
Trivia
Name "Airi" means "love jasmine" and name "chinatsu" means "one thausand summers"
Airi's favorite foods are fried potatos and onions,also  ichiraku ramen.
Airi's least favorite foods are vegetables and spicy food
Airi's hobbies are spending time with friends and helping grandmother in cake shop
Airi doesnt likes fighting or killing thats why she doesnt wishes to fight anyone unless if she has to
Airi's favorite word is "honesty"(正直Shōjiki)
Her favorite phrase is "everyone should know the truth even if it hurts(それが痛い場合でも、誰もが真実を知っている必要がありますSore ga itai baai demo, daremoga shinjitsu o shitte iru hitsuyō ga arimasu)
References
Airi's picture was created in Chibi Maker(deviantart)
Community content is available under
CC-BY-SA
unless otherwise noted.